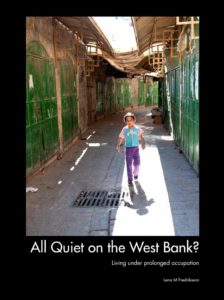 Freelance journalist and photographer Lena Fredriksson made several journalistic trips to the West Bank to gather material and interview Palestinians from all walks of life for this photo documentary book with texts about life under Israeli occupation.
The book All Quiet on the West Bank? Living under prolonged occupation, highlights:
What is it like to live year after year under occupation?
What can everyday life look like and how does the people deal with the problems that the occupation brings?
How do they resist and what joys do they have?
It shows glimpses of life on the occupied West Bank, in its cities, villages and refugee camps.
You can also read more about it and see some photographes on the following website:
A signed copy is available in English and Swedish at the following link: